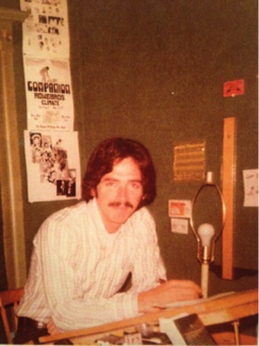 ​THE TONY KARASCH SCHOLARSHIP FUND
TONY KARASCH was born May 11, 1951, a Taurus dragon, in New York City. Youngest of two boys at age 8 his family moved to Santa Barbara, California, a state he called home until his death in April 2013. From the time he could hold a pencil he drew to escape from his challenging childhood and adolescence. A tragic factory accident resulted in life changing, permanent injuries to his body. After a year of recovery, rehabilitation and surgeries, Tony submitted his drawing portfolio to the California College of Arts and Crafts in Oakland, California, and despite lousy high school grades, he was accepted. Tony loved being in a supportive, artistic milieu and did so well academically that he was awarded a Ford Foundation Scholarship that carried him through the remaining three years until he graduated with high honors, earning his BFA.
​
​After college, Tony devoted many years to the printing industry. He traveled to Europe where the high point for him was a private Beatles tour in Liverpool (He loved John Lennon). Tony's many artistic endeavors and passions included music (drummer/vocalist), photography, comic collecting, movie marathons, foodie/cook; a vegetarian, he never knowingly killed any living creature. At the University of California, Berkeley, KALX radio station, Tony created and wrote for a program called Radio Trauma. He had hours of fun being outrageous on the air with his witty presentations.
---
In his forties, Tony attended an amazing, life-changing exhibit in Oakland called "Way of the Doll" orchestrated by Cassandra Light and was inspired to become a three-dimensional artist, sculpting and creating figures for psychological artistic installations. After his first year of study and exhibition with Ms. Light, she asked him to become one of her assistants for two years, helping others in creating their sculptural work for public exhibition. His work is featured in "Way of the Doll: The Art and Craft of Personal Transformation" Chronicle Books 1996.
Late in his life, Tony met another artist - Cathy Abastillas - with whom he gave his heart for 5 loving years. When Cathy suddenly died, he joined her 7 months later - as he told one of his closest friends, "I'm not trying to die but I'm ready to." Tony's life was an arduous one but he always said that "art saved my life." He had a very strong creative spirit within him that always propelled him forward no matter what. Therefore to honor his memory and the value of art, this scholarship has been established to help children have an experience they otherwise would not have. Tony would be thrilled to help children, especially as he had none of his own. In a way, scholarship recipients ARE his children. We miss you Tony! Rest in Peace.

Please direct my donation to the Tony Karasch Scholarship Fund, awarded to children in crisis in the spirit of expanding their artistic horizons.